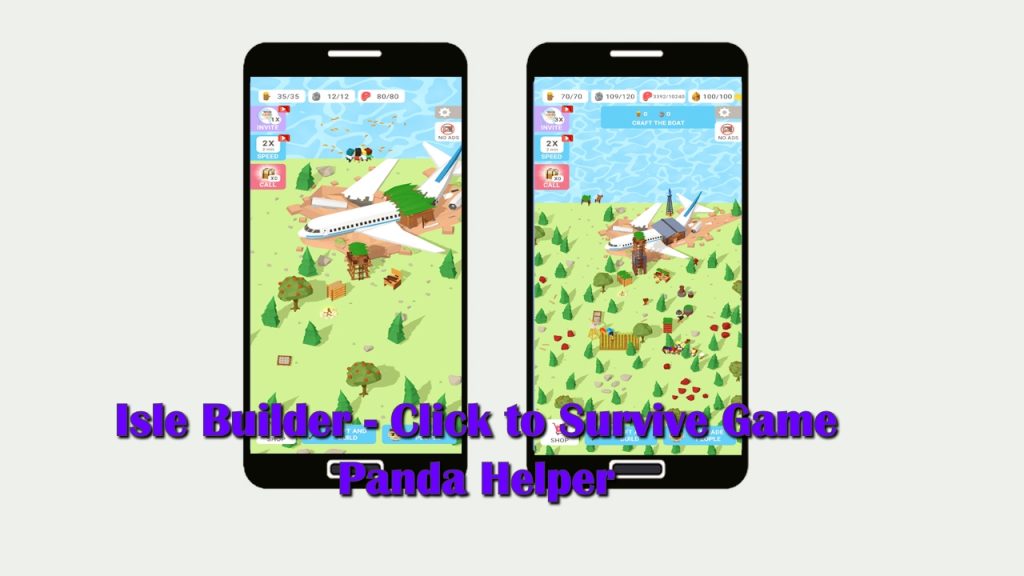 Gear Up to Survive on a Deserted Island
Isle Builder: Click to Survive – What drives your gaming wits crazy? Could it be a strategic survival game on an island? There is no better way to test the limits of your survival skills than to play the dire situation of a plane crash survivor. Yes, I am speaking of all the adrenaline-rushing and brain-spinning acts of resource mining, tool crafting, and shelter building. The fiery vibe of your love for your life haunts you as you perform all the daring tasks.
The struggle for survival is natural as you play one of the survivors of the plane crash in this fun-filled, vibrant mobile game called Isle Builder: Click to Survive. If you keep reading, we will gift you the highly modified version of this game, which will double the entertainment. Panda Helper is where you get cool mods like this, and you will find the link at the end of the page, but keep reading to know before you start playing.
Isle Builder – Click to Survive Game Specifications
| | |
| --- | --- |
| App Name | Isle Builder – Click to Survive |
| Version | 0.3.18 |
| Updated On | Mar 31, 2023 |
| App Size | 205 MB |
| Platform | Android/iOS |
| License | Free |
| Category | Strategy, Simulation |
| Developer | Casual Azur Games |
Isle Builder – Click to Survive Game Download Free
Download Isle Builder: Click to Survive game latest version for iOS, iPhone, iPad & Android mobiles and Tabs from Panda Helper appstore. Download Panda Helper latest version from here, install your favorite apps and games free.
Isle Builder game Best Features
Impressive survival strategy simulation game that challenges your gaming wits
Engage in resource mining, tool crafting, and shelter building
Explore and claim territories
Collaborate with your fellow survivors and establish a community
Learn new survival skills
Build creative tools and learn to use them
Simple controls
Less consumption of your device resources
Frequent updates
Hone Your Skills if You Want to Survive
You are in for a tragedy unless you keep fighting against all the odds and prove your survival skills are more potent than the challenges you have to confront. You have crash-landed on a desert island; there is no help from the outside world, and your only hope is to build your survival strategy and find a way to return home. There is no time to indulge in your fancies.
As soon as you are launched into the game, it would help if you worked on the available tools to master essential skills like mining, crafting, food extraction, and building without taking a break. The user controls entirely depend on simple clicks, and you will have no issues in that department. Your progress depends on how you refine the skills I mentioned above. Eventually, you can connect with other survivors and gradually expand your base.
What is in the Mod?
Free Crafting Unlocked
Instant Crafting Unlocked
Practical Problems Need Practical Solutions
At the core of this game is its intense demand for you to develop your best life-saving strategic skills. It requires you to think and come up with solutions to practical problems. These challenges are common for almost all survival scenarios, including the need for food, shelter, and defenses against hostile creatures. Proper resource management and utilization are a must if you wish to progress.
You have to explore new areas on the island, unlock new locations, access better and more effective tools, and pile up resource materials for construction. You realize how challenging these activities are once you confront them head-on. The only comfort is that you do everything on your screen, not in real life.
Be a Smith, and You Won't Regret
The path to excel in Isle Builder-Click and survive is constantly upgrading your mining, crafting, and building skills. Such advancement is necessary as the game becomes progressively difficult. You must be absolutely in command of your survival skills, constantly learning, adapting, improving, and applying them—the tools of your survival need expertise in handling, which you can't do without experience.
The mastery of tools at each stage of the game makes you a proficient constructor, and you are forced to make strategic choices every step of the way. Isle Builder may not fit those who dislike the strategy genre. The game doesn't boast eye-candy graphics, and you can't expect alluring graphic charms.
Collaborate with Your Fellow Survivors
Cooperating with other survivors is also necessary for progress. Teaming up with your buddies in the same plight can dramatically improve your chances of survival and quality of life on the island. More territory will be claimed by the collective effort of you and your friends. Thus, the base will expand efficiently and productively.
You will enjoy the communal spirit of working in unison with others and improving the social aspect of your survival on the island. Being a team player is constantly strengthening, and you will find that your chances for success and progress are relatively higher than if you were working alone. It's time to be more social and energized by embracing the survivor community!
Can You Make Use of the Resourceful Island?
You have crash-landed on a desert island enriched with plenty of natural resources. All you have to do is put your brain to work to extract the best of everything for your advantage. Here's the benefit for your life and survival. There are great opportunities to be explored and found; the island has everything you need to survive.
You can mine wood, stone, and ores to build tools for every unique situation. Craft them into weapons, construction aids, and whatever the survival context pushes your way. Even if you can fail with all these resources unless you implement a unique survival strategy, you must stick to that plan while effectively using the resources.
Challenging Game, Simple Controls
The game may be challenging, but the gameplay is not. It combines simple clicking mechanics and relies on your rational thinking. Tap and tap your way to survival, but each tap needs your thinking to be smart, so make sure you use your brain right. Suppose you find this game overwhelming and only want to have shallow fun. You can use a modified version of the game.
It will unlock special aspects of the game, unlocking next-level gameplay. For instance, you will be able to game without resource restrictions. Isle Builder-Click to Survive the Mod from Panda Helper unlocks the functions of free crafting and instant crafting, which is ideal for gamers who want to enjoy the game without getting too serious.
Isle Builder Frequently Asked Questions
Is Isle Builders Click to Survive Mod safe?
A – The Isle Builder: Click to Survive Mod is safe to play if you downloaded it from a safe source. We recommend Panda Helper as the ideal destination to get virus-free mods and fixes for Isle Builder.
Is Isle Builder: Click to Survive Free?
A – The unmodified version of Isle Builder comes with limitations, and the game incentivizes you to purchase the in-app purchase. You can buy assets or download a mod from Panda Helper.
Why doesn't the Isle Builder Mod work?
A – There can be several problems. The most likely scenario is an installation issue. If clearing the cache memory doesn't work, try reinstalling or using a different version of the Mod from the repository.
Can I update the Isle Builder Mod from the Play Store?
A – No, you should only update the mod version from Panda Helper. The Mod will be corrupt and unplayable if you try to update via official sources.
Final Thoughts
Isle Builder: Click to Survive was initially released in 2021, and the responses from players have kept this franchise open and progressive. I had a chance to explore the game briefly, but I am no fan of strategy games. So I went to my favorite mod store, Panda Helper, and tried a modified game version. Despite my inhibitions about the strategy genre, I played the game with the modded options active.
I want all strategy and survival enthusiasts to try this game. First, you can play the original version and test your gaming strengths; if you're going to fool around or have unrestricted fun, try the modified version from Panda Helper. This game has high ratings on both Google Play and the App Store, and you are highly likely to be pleasantly surprised by the game. Enough said! Time for gaming