Download Panda Helper for Windows and Mac PC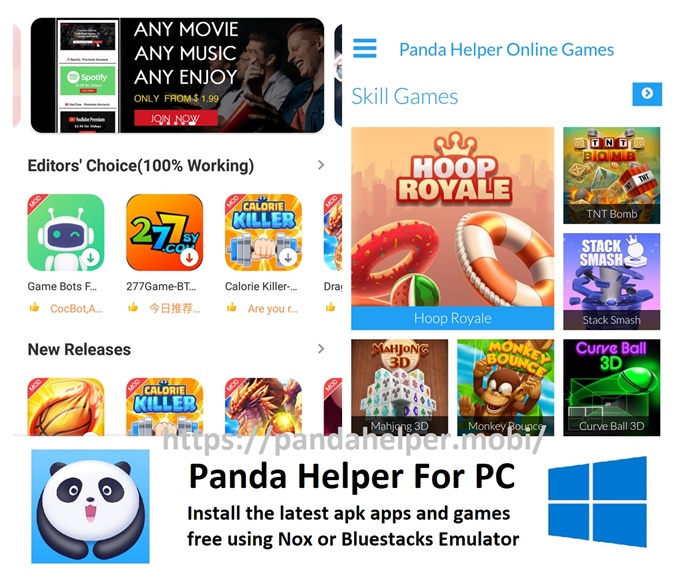 Panda Helper PC – It is frustrating when you can't enjoy an App or Game to its full potential without spending money. Be it a tempting dating app or an exciting action game, you will encounter limitations and restrictions unless you purchase what they offer.
The apps and games found in official stores follow the freemium business model, which lets users download the particular program for free, but they need to purchase additional features to make the most of it. The stores identify such content as premium and exclusive.
Panda Helper Download PC
How to download Panda Helper for PC?
Out of these, we recommend Bluestacks or Nox app as they rank high in our preference list. The reasons for prioritizing them over others is their simplicity and convenience. Follow the below instructions to run Panda Helper on your Windows or MAC PC.
Obtain either Bluestacks App or NOX Emulator; download one of these emulators onto your PC from the given links and install it.
You have to download the Panda Helper APK file onto your computer and save it as your next step
Visit the location of the APK file and double click the file with .apk extension.
Your android emulator will automatically launch, and Panda Helper will be installed on your system. If it doesn't open, right-click the .apk file and choose Open With; then click on either Bluestacks or Nox(depends on your choice) Another way to launch is to open the emulator first and then drag the file into it
When Panda Helper has been successfully installed, the app icon will show up in the emulator Home Screen
It is not important which of the two emulators perform well, both are good, and they will quickly adapt with Panda Helper and make things work the way you want.
Using Panda Helper on Windows PC
This is not difficult, follow the simple process below
Launch your emulator program
Find and click on the Panda Helper icon
The app will execute; locate what you want and click it
Click on Download and your Mod Game or App will be downloaded to your PC
See, there is nothing complicated.
Note – If the emulator asks to sign in, you can use your google account to do so. Please note that you never have to pay for the emulator tools.
These unique features may comprise ad-free facilities, faster performance, more inbuilt tools to fulfil tasks. In games, they may be infinite health or money features not available for free users. True that there are completely free apps and games in official stores, but they may not be as impressive as the paid editions.
Fix markets have a remarkable demand under these circumstances, and they are growing with high intensity. The reason for the awakening is that these mod markets fulfil the needs of both Android and iOS users, whereas the official markets are deficient.
Fix stores supply users with Fixed programs, customized content, patched Apps and games, Fixes and Tweaks. All such applications are restrictedin official stores like Goggle or Apple. The fixs or any other custom version of popular app or game is published to not generate profit out of them.
These altered versions are a 100% free, and there are no hidden charges. Panda Helper iOS and Panda Helper apk is are the most popular programs for both Apple and Android users.
Panda Helper – Safe, Secure and More Stable Fix Store Experience
Pandahelper is a stable and secure third-party app market which delivers mod apps and games, system tools, tweaks and custom content for Apple and Android users. If you are an iOS user, you don't need to worry about installing this unofficial program on your device, as it carries out no jailbreaking process.
If you are an Android user, you don't need to own a rooted device to install panda helper. For apple, you only have to establish trust from a profile before you can use it. For Android users, the unknown source option must be kept activated for the program to be installed and run.
Panda Helper is easy to use, and it comprises a clean interface without too many options crowding the screen. When you get it installed, launch the panda helper from your home screen.
You can browse the app and game tabs or use the search tool to locate your desired app or game with precision. Panda Helper administrators have allowed minimum space to advertise and you only experience ads in the games and apps you download via the platform. There are two versions of panda helper called the free version and the VIP version.
While the VIP edition works more reliably and requires no external service, the free version may need a program called panda Hero to perform with great stability. Panda Helper VIP also has zero ads and can perform with greater regularity.
Third-party programs on iOS encounter many certificates revoke, and this is a common issue. Panda Helper doesn't encountera high rate of revokes, and It faces fewer crashing and invalidation problems on the iOS system. The problems are minimal in Android OS as well.
Panda Helper for PC
Panda Helper was initially developed targeting Apple devices, and it came as an alternative to Cydia platform. However, developers expanded coverage by making Panda Helper compatible with Android as well. Due to the exclusive nature of the Panda Helper Platform, you will not be able to directly download and install a Windows or MAC version of the program on your Laptop or Desktop.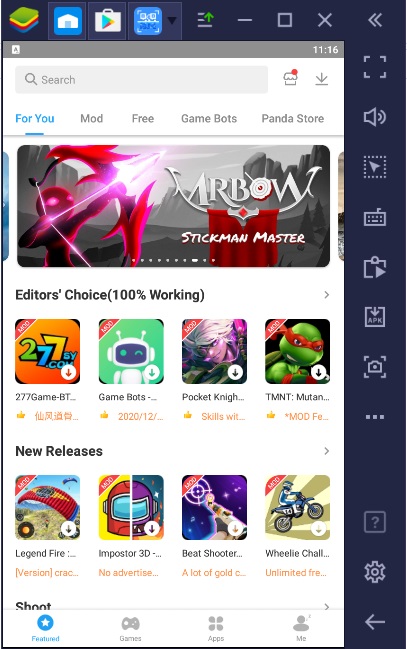 To have this app store running on a bigger screen like desktop or laptop will be an exciting experience. And the good news is you have a workaround to make Panda Helper functional on your big device. This method requires the assistance of a third-party tool that can enable panda helper to launch on your Windows or MAC.
With the help of an Emulator tool, you can use Panda Helper on your large screen device just like you do on your Mobile. Here the emulator acts as a system simulation tool that creates an android runtime environment on your PC.
The emulator is supposed to create the virtual environment necessary for Panda Helper or any other non-windows program to work on. Bluestacks, Noxapp, ARChon, Bliss OS, LDPlayer, GameLoop, Genymotion, MEmu. These are some of the best Android Emulators for PC and Mac.
Conclusion
Panda Helper is such a fantastic platform to experience the maximum potential of your Google or Apple store apps and games. Getting it to work on a big screen is even more tempting, that's why this guide has been prepared for you.
Always use emulator programs from reliable sources to get the best experience. You can also read our Panda Helper iOS and Panda Helper APK for more information on Panda Helper platform.