Panda Helper Download Free for iOS and Android APK
Panda Helper Download – Install the latest Apps and Games for Android and iOS mobiles and PC.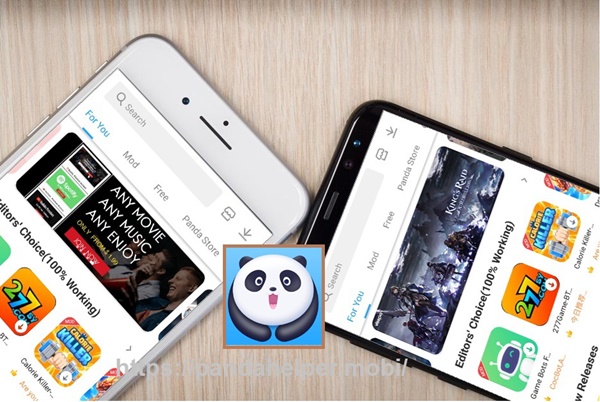 Panda Helper is a resourceful Appstore for iOS and Android users with an endless supply of mods, tweaks, customized games and apps, unofficial programs, system tools, jailbreaks, game bots, utilities, etc. Without a doubt, PandaHelper is a fully-fledged third-party app store, covering a wide array of mobile programs. It has one million+ downloads and boasts an ever-growing crowd of loyal users. The PandaHelper is exclusive and exotic, tempting users with content not based on official sources. It delivers versions of games and apps you can never find on official platforms.
Panda Helper App Specifications
| | |
| --- | --- |
| App Name | Panda Helper |
| Updated | 05 June 2023 |
| Category | App Store |
| Platform | Android / iOS |
| Price | Free / Vip |
| Developer | Panda Helper™ |
Panda Helper APK
For Android users who want more than the Play Store, PandaHelper for smartphones, tablets, and phablet devices is great. Play Store Panda Helper accepts many modified, customized, and edited content. Android apps and games predominate. Unlocked Playstore programs unlock all previously unavailable content if they are freemium. Gamers that want an advantage can use gaming bots and cheat tools.
Panda Helper supplements Google PlayStore. First search the Play Store for an application you want, then search PandaHelper for a free premium version. Panda search returns changed versions of programs 90% of the time. The PandaHelper limitless money mod gives you in-game credits to unlock things. Most importantly, this app store can be installed on Android devices without rooting by enabling install from unknown sources and installing PandaHelper.
Download Panda Helper Android APK
Panda Helper iOS
PandaHelper works on all iPhone, iPad, and iPod Touch models without jailbreaking. It has many official and unofficial jailbreaks, modifications, system tools, and modifiers to optimize iDevices. iOS installation doesn't require bypassing device security. PandaHelper on iOS only need trust to launch. Crashes are rare in this app shop.
Panda Helper, a non-jailbreak Cydia replacement with greater iDevice support, is popular among iOS users. As we know, iPhone owners have fewer third-party storefronts than Android users. It provides iOS users with highly customized tweaks and customizations. PandaHelper resembles the app store. PandaHelper can serve as a backup for your official store, revealing thousands of unpublished items.
Download Panda Helper iOS, iPhone, iPad
Panda Helper PC
PandaHelper is not available for PC or Mac. However, you can use NoxPlayer to run the mobile app on your PC. Android apps and games run on PCs using emulators. Emulators connect Android apps to PCs. Android programs operate better and wider on desktops and laptops.
PCs are always more powerful than mobile devices. PandaHelper with an emulator is ideal for PC users. It's sad that PandaHelper doesn't have a dedicated PC version, which would have solved all the issues stated. It can also be browsed on a PC. To get the optimal PandaHelper version, try Lite and VIP. Your technological requirements are limited to the emulator issue. The emulator runs the software fine.
Panda Helper Download PC
PandaHelper App Top Features
PandaHelper repository comprises 1000+ apps and games
The platform can be downloaded and installed without jailbreak.
Stable and consistent performance and scores high as Mod App Market
PandaHelper facilitates Modified apps and games, fixes, and tweaks for popular programs. Here you can discover most of your favorite apps without usage limitations or purchase conditions.
Get access to unlimited and unlocked content which you can't obtain from official Apple and Google Playstore.
VIP version of PandaHelper is available
It doesn't require Apple ID
Compatible with a wide range of Apple and Android devices
Platform prohibits unverified content, and programs are screened for security concerns.
Ads do not ruin user experience as they don't pop up aggressively.
Free from Malware and other dangerous programs
Clean and clear interface with uncomplicated navigation. Easy to interact with the content.
Regular Updates and Bug fixes to improve user experience
All app and game updates can be performed via the platform.
New apps and games are added daily.
PandaHelper has Round the clock technical support.
Panda Helper Frequently Asked Questions
Is Panda Helper a virus?
Calling PandaHelper a virus is not valid. The platform is resistant to malicious mod program influences and has a better safety mechanism than most other third-party stores.
Is Panda Helper on iOS?
PandaHelper works on Android and iOS, allowing you to explore an ocean of apps, games, mods, tweaks, patches, and other third-party content.
Is Panda Helper VIP worth it?
Panda Helper VIP hosts premium apps and games with modified content that are not available in the regular and lite versions of the app store. The most important point about PandaHelper is that it is entirely free.
Is Panda Helper legal?
PandaHelper is a platform for third-party app developers. The apps come from diverse sources, and the legitimacy of such content rests with the owners of such apps or games. In this sense, PandaHelper is similar to all other third-party apps in the legal sense.
Conclusion
Panda Helper is a powerful utility you can use to download paid content of apps and games for free. You get your favorite Apps and Games free from here. It consists of popular categories that users like you mostly indulge in. You can use PandaHelper as a replacement for your official store whenever you want to feel the free experience of app features or game content unfettered by in-app or prior installation purchase requirements.
It can offer more than you expect from a typical store and the best thing is it is completely free. You don't have to worry about security issues because installing Panda Helper won't change the way your device works. It runs fluently on iOS and Android OS with regular updates from the developers. You can download the PandaHelper APK and PandaHelper iOS version of Pandahelper from the following links.