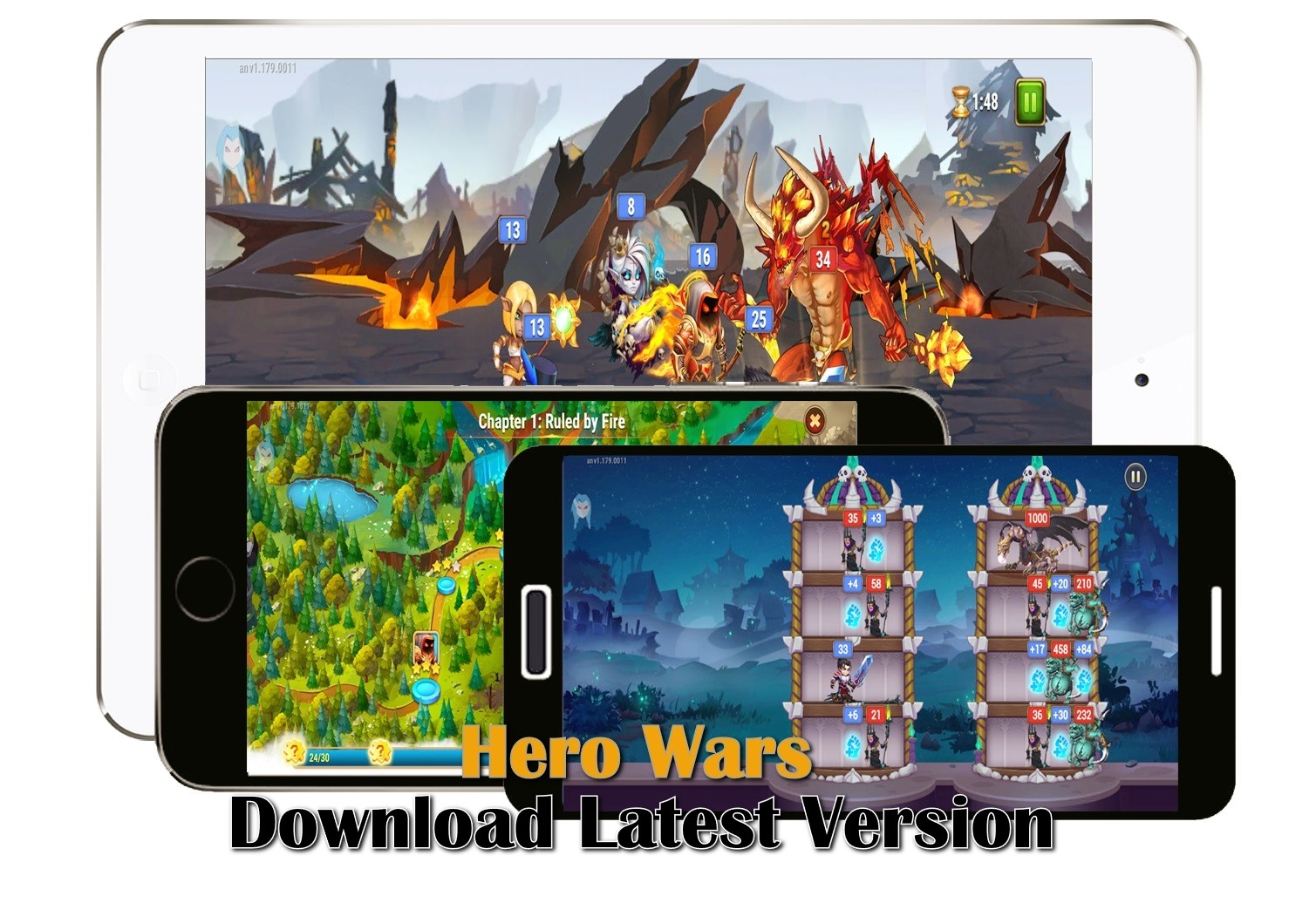 Hero Wars has made a place for itself in the world of mobile games, which is always changing. This captivating RPG strategy game has won over the hearts of millions of players around the world thanks to its interesting story, superb graphics, and strategic gameplay.
This detailed guide will help you become a true hero in Hero Wars, whether you're a beginner or an experienced player who wants to improve.
Hero Wars Game File information
| | |
| --- | --- |
| Game | Hero Wars |
| Support | Android / iOS |
| File size | 86.35MB |
| Version | v1.179.001 |
| Updated | Sep. 14, 2023 |
| Downloads | 100M+ |
Hero Wars Mobile Download
Hero Wars is more popular on smartphones than on PC. You can get it for free on both Android and iOS phones.
Hero Wars Apk
Download Hero Wars Android version from Google Play store or MOD apk version from Panda Helper Apk Appstore.
Hero Wars iOS
You can download Hero Wars for iPhone, iPad and iPod Touch device from Apple Appstore or mod version download from Panda Helper iOS Appstore.
Hero Wars MOD Download
Download Hero Wars MOD apk and iOS version for Android mobiles and iPhone and iPad from PandaHelper Appstore. mod version has a lot of features than regular version.
Damage Multiplier
Defence Multiplier
Massive SkillGauge Gain
Understanding the Basics
Before delving into advanced strategies, it's essential to grasp the fundamental aspects of Hero Wars.
Heroes
Heroes are the heart and soul of Hero Wars. Each hero has unique abilities and strengths. It's crucial to understand their roles, whether they are tanks, damage dealers, or support heroes, to create a balanced team.
Teams and Formations
Constructing the perfect team and arranging them strategically is key. Pay attention to hero synergy and formation bonuses to maximize your team's effectiveness.
Campaigns and Battles
The campaign mode is your primary source of resources and experience points. Completing campaign battles efficiently is vital for hero progression.
Hero Development
Hero development is one of the most important parts of Hero Wars, and it takes planning and hard work. By taking care of and improving your heroes, you can make a legendary team that can take on even the toughest tasks.
Remember that in the world of Hero Wars, going from a new hero to a well-known champion is an exciting and gratifying journey. So, give your heroes gear, raise their levels, and start your epic journey as you try to become the best hero in this fantasy world.
Hero Levels and Stars
To increase your heroes' power, level them up and collect enough soul stones to increase their star rating. Higher-star heroes have more potent abilities.
Gear and Equipment
Equip your heroes with the best gear available. Prioritize upgrading gear that suits your heroes' roles.
Abilities and Skills
Understanding hero abilities and skill upgrades is crucial. Develop the skills that align with your hero's role and team composition.
Building the Ultimate Team
In Hero Wars, putting together the best team is a process that is always changing. By knowing hero roles, synergies, and counter-strategies, you can build a team that can handle any challenge. So, carefully choose your heroes, use their skills, and lead your best team to win in Hero Wars.
Role Combinations
Experiment with different hero combinations to discover synergies that work best for your playstyle. A well-rounded team typically includes tanks, damage dealers, and support heroes.
Faction Advantage
Pay attention to faction bonuses and synergies, as these can significantly boost your team's performance.
Battle Strategies
In Hero Wars, fights are the best way to show how good you are at planning. You can become a powerful force in Hero Wars by getting good at manual fights, managing your energy well, deciding which targets are most important, and adapting to your opponents. In this amazing mobile game, you have to keep an eye out, try out different strategies, and lead your heroes to victory.
Auto vs. Manual Battles
While auto-battles are convenient, manual battles allow for more strategic control. Use manual battles for challenging encounters.
Energy Management
Manage your hero's energy usage during battles. Timing abilities and special attacks can turn the tide of a fight.
Counter Heroes
Learn to counter enemy heroes effectively. Some heroes excel against specific types of opponents.
Resources and Progression
In Hero Wars, you can get the most out of your heroes by being smart about how you use your resources and move them forward. You can become a legendary champion in this exciting mobile game if you use these tips and put your all into the trip. In Hero Wars, you can equip your heroes, use your resources, and start on a path to becoming a great leader.
Daily Quests and Events
Participate in daily quests and events to earn valuable rewards, including hero fragments, gear, and resources.
VIP Benefits
Consider investing in VIP levels for additional perks and advantages that can accelerate your progress.
Community and Guilds
The richness and variety of player interactions in Hero Wars are greatly enhanced by the game's active community and guild system. The Hero Wars community and guilds offer a great place to get help, share in the joy of others' successes, and build friendships with other players. In Hero Wars, you can band together with other heroes, go on exciting adventures, and contribute to a bigger cause.
Joining a Guild
Joining a guild not only offers a sense of community but also unlocks various perks and resources.
Strategy Discussions
Engage with your guildmates to discuss strategies, share tips, and seek advice on hero compositions.
Hero Wars Best Team
The "best team" in Hero Wars depends on your tastes, the characters you've gained, and the obstacles you're experiencing, such as campaign battles, arena combat, or boss encounters.
But I can give you some popular and effective team combinations that have worked for many gamers. Be open to changes as new heroes and game updates are released to adjust hero availability and balance.
K'arkh and Faceless Combo (Physical Damage Team)
K'arkh: A powerful physical damage dealer with excellent crowd control abilities. Faceless: Supports K'arkh by copying his abilities and dealing additional damage.
This team focuses on dealing massive physical damage quickly. A strong tank and support hero complement K'arkh and Faceless to protect and buff your primary damage dealers.
Astaroth, Martha, Jorgen, Keira, and Nebula (Magic Damage Team)
Astaroth: A sturdy tank who absorbs damage and protects the team. Martha: A dedicated healer who provides sustained support. Jorgen: Disrupts enemy teams with his abilities and boosts your team's magic damage. Keira: A high-damage magic attacker with strong area-of-effect abilities. Nebula: Enhances your team's damage output by buffing the primary damage dealer.
This team relies on powerful magic damage, supported by strong healing and crowd control abilities. Jorgen's energy-draining abilities can cripple enemy teams, while Nebula boosts your primary damage dealer's damage output.
Astroth, K'arkh, Faceless, Martha, and Thea (Balanced Team)
Astaroth: Acts as a sturdy tank and disrupts enemy teams. K'arkh: Deals substantial physical damage and provides crowd control. Faceless: Supports K'arkh by copying his abilities and dealing additional damage. Martha: Heals your team and provides support. Thea: Revives fallen allies and offers additional healing.
This team combines both physical and magical damage, providing a balanced approach to battles. It's strong in both campaign and PvP situations, offering decent survivability and damage output.
Galadriel, Elmir, Martha, Sebastian, and Orion (Magic Damage Burst Team)
Galadriel: Disables enemy abilities and provides crowd control. Elmir: A high-damage magic attacker with area-of-effect abilities. Martha: Offers healing and support. Sebastian: Enhances the speed and damage output of your team. Orion: Deals additional magic damage and disrupts enemy formations.
This team relies on quick, devastating magic damage bursts. It's effective in countering certain hero compositions and can excel in the arena.
Hero Wars is a dynamic game, so your best team may vary as you gain new heroes and battle new opponents. Pay attention to faction synergy, counter heroes, and challenges to adjust your team. Communication and collaboration with guildmates for situation-specific advice and strategies.
Hero wars Login
If you're having trouble logging into your Hero Wars account, here are some steps to help you troubleshoot the issue
Check Your Internet Connection
Restart the Game
Check Your Credentials
Reset Your Password
Clear Cache and Data (Android)
Update the App
Contact Customer Support
Check for Server Issues
Check for Account Restrictions
Try Another Device
Keep in mind that it's important to keep your account information safe and not give anyone your login information. If you ever think that someone else has gotten into your Hero Wars account or that strange things are happening on it, you should contact customer service right away for help.
Hero Wars Tier List
To find the most recent and accurate tier list for Hero Wars, consider the following options
Official Hero Wars Resources: Check the official Hero Wars website, forums, or social media channels. Game developers sometimes release their own tier lists or provide information on hero balance changes.
Community Resources: Visit Hero Wars community forums, subreddits, or Discord servers. Many players and fans create and regularly update tier lists based on their experiences and the current meta.
YouTube: Some content creators on YouTube regularly update tier lists and provide explanations for their rankings. These videos can be a valuable resource for understanding hero strengths and weaknesses.
Gaming Websites: Gaming websites and forums often host discussions about Hero Wars and may provide tier lists compiled by experienced players.
In-Game Chat and Guilds: Engage with your guildmates and in-game chat to gather opinions and insights on hero tier rankings. Experienced players can offer valuable advice.
Heroes' efficacy depends on your squad, gear, skills, star rating, and opponents. Consider both individual hero rankings and team hero synergy.
Hero Wars Gameplay
Hero Wars is a game where you can use planning, work with other people, and help your hero grow. By getting good at the basics, putting together a balanced team, and playing in different game modes, you can go on an epic trip in the world of Hero Wars, bringing out the best in your heroes and beating the challenges that lie ahead.
Hero Wars Online
Hero Wars is a game that you can play online on your phone or computer. You have to download this game to your device and make an account before you can play it online. Here are the steps to do it right.
Mobile Devices: To play Hero Wars, visit the Google Play Store (for Android users) or the Apple App Store (for iOS users) on your mobile device. Search for "Hero Wars" and download the official Hero Wars app. MOD version download from Panda Helper Appstore.
Account Creation: After installing the app, you'll need to create or log into your Hero Wars account. You can also link your account to a social media profile like Facebook for added convenience.
Gameplay: Once you've logged in, you can start playing HeroWars on your mobile device. The game features a campaign mode, arena battles, guild activities, and various events to participate in.
Updates: HeroWars frequently receives updates, including new heroes, features, and events. Be sure to keep the app updated to access the latest content and improvements.
Hero Wars Best Heroes
According to the latest update, here are some heroes that were considered strong and versatile by many players:
K'arkh (Physical Damage Dealer): K'arkh is known for his high physical damage output and crowd control abilities, making him a popular choice in many teams, especially when paired with Faceless.
Astaroth (Tank): Astaroth is a reliable tank with strong defensive abilities. He can absorb damage and protect your team, making him a valuable addition to most lineups.
Keira (Physical Damage Dealer): Keira is an excellent physical damage dealer who specializes in dealing area-of-effect (AoE) damage. She can be a powerful asset in the right team composition.
Martha (Healer/Support): Martha is a dedicated healer who provides essential support to your team, keeping your heroes alive during battles.
Jorgen (Support/Control): Jorgen is a versatile support hero who can disrupt enemy teams with his abilities. He also works well in various team compositions.
Nebula (Support/Buff): Nebula enhances your team's damage output by providing valuable buffs. She is often used to boost the primary damage dealer's performance.
Faceless (Support/Physical Damage Dealer): Faceless is known for her ability to copy enemy abilities and deal additional damage. She often synergizes well with heroes like K'arkh.
Celeste (Magic Damage Dealer/Healer): Celeste is a hybrid hero who deals magic damage while also providing healing to your team. She can be a versatile addition to a team.
Lars (Control/Magic Damage Dealer): Lars is a control hero who can silence enemy mages and deal magic damage. He can be effective in countering certain hero compositions.
Krista (Magic Damage Dealer): Krista specializes in dealing magic damage and can be a strong choice when building a magic-based team.
Conclusion
Hero Wars is a masterpiece of mobile gaming because it combines epic fantasy, strategic depth, and multiplayer fights in a way that is truly unforgettable. Hero Wars is ready for you if you want to go on a trip full of mythical heroes, magical battles, and the thrill of competing with other people.
In this beautiful fantasy world, you can let out your inner hero, make allies, and come out on top. Are you willing to take on the task? Now, the great adventure starts.