Create program copies with a Panda App Cloner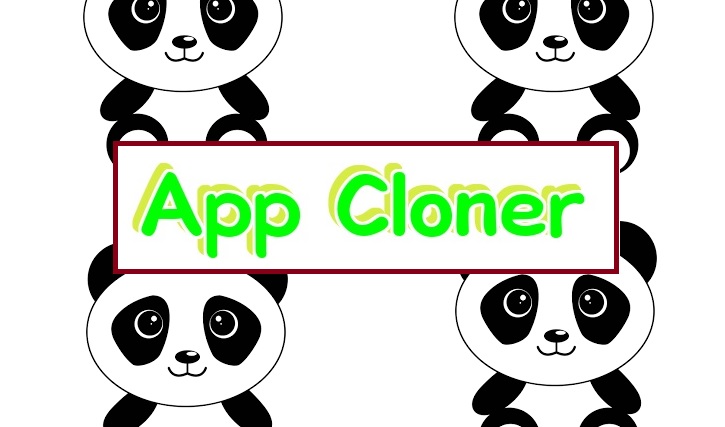 Panda App Cloner – Have you ever wanted to use multiple accounts for a single program? Was there a situation where you felt it would be good to have a copy of a program, but you had no fix? Sometimes you didn't know before that there are cloner apps that can replicate multiple copies of a single program. This enables you to use two accounts of a particular app on a single device.
Without using a cloner software you would not be able to fulfill this purpose. As the software technologies evolve corresponding to the evolution of hardware, you don't need to be a computer whiz to perform some programming marvels like cloning. There are thousands of free and paid tools you can use to achieve this purpose.
An efficient cloner software is extremely convenient and user friendly. You will be able to replicate your favorite apps and games with a few clicks. When the clone app is activated, a fresh copy of the original app will be generated on the home screen. We say home screen because we focus on tools from the mobile app market software Panda Helper. Therefore we target this post for Android and iPhone mobile users.
Panda Helper Download Latest Version Free
What a real Cloner is supposed to do
A flawless cloner app is supposed to create the identical app out of the original one make it work on the device simultaneously without affecting each other. Cloning an app is supposed to produce an exact copy of the original and you can store the cloned app at the same or different locations as to your need.
Let's assume you have a program that needs modification but you want to preserve the original and apply all the alterations to a copy of the same, so you can use a clone software to do this. You may test all the additions on the copy and if it is successful you can apply the updates to your program.
Legitimacy of Cloners
A question will arise at this point as to how legal app cloning is. You may think it's illegal after all, but what you need to consider is for what purpose you clone apps. Everything is legal as far as you comply with existing business IPs, copyright, patents, trademarks, and all other authorization terms and conditions. Most of the time, if you use cloned apps for personal or private use you will stay on the safe side.
If you use proper clone tools for proper purpose then there's nothing to worry. Bearing this in mind we bring you Panda app Cloner; one of the best cloner tools out there. Before anything, we need to mention that this tool is developed by the Panda Helper team. If you do not know what Panda Helper is we will give a short intro to it in the passage below, please keep reading.
Panda Helper offers you Panda Cloner
Panda Helper is a third-party app market with thousands of free paid version apps and games, Modified Programs, Unofficial content, system tools, emulators, apps, and games with in-program purchases unlocked. The platform is designed to facilitate both iOS and Android users and it works on a wide range of Apple and Android devices.
The content of this app store is completely free and it provides unrestricted access to all the programs by eliminating financial burden. You can get a full description of Panda Helper here. Panda App Cloner is a Cloning tool designed as an in-platform function and the facility comes with the VIP version of the Panda Helper Store.
Panda App Cloner – Efficacy with Examples
What can Panda App Cloner do? Well, you know what a cloner can do if you went through our earlier information. Let's redefine them with some easy examples: say you want to play games with multiple accounts on one iPhone or iPad, or expecting to use multiple social accounts at the same time on one device without switching as you separate life from work, no matter why you want to duplicate (clone) apps on iPhone or iPad, Panda App Cloner is exactly what you want to duplicate apps or games on your device.
If you clone an original or official app both of the programs can coexist without contradictions. The tool enables you to use the same apps separately and they can function independently. Panda App Cloner supports iOS 14, iOS 13, iOS 12, iOS 11. As previously mentioned, Panda Cloner is based on Panda Helper App, and to get this tool you need to install the Panda Helper VIP app. Please follow the below guide to learn the procedure of duplicating apps.
How to Duplicate (Clone) Apps on iPhone or iPad iOS 14
We use the game Resident Evil 4 as a model to show you how to duplicate/clone programs
Step 1 – You need to download Panda Helper VIP
If you are already reading this on your iOS device you can click here to get Panda Helper VIP version. If you have access to the iOS device then open safari browser and type the following pandahelper.mobi URL you will get the installer and download it and install. Please refer to our Panda Helper download instruction posts if you are confused about the process.
Step 2: Locate the apps you want
Well, this is easy, all you have to do is type the name of the app or game in the Panda Helper VIP search and tap enter. For example let's take Resident Evil 4 as the game you want to clone, find it in the list of search results on Panda Helper.
Step 3: Tap it to access the description page
You will get more detailed information about the app
Step 4: Tap Download Button; Select Clone App to install
You need to click the download button first and it will prompt you to the next page with a Clone Appfunction box. When you select this box it automatically picks "Clone 1"as the app download source.
Step 5: Install Clone App
You will notice the downloading process and downloaded the apps inside the download button of the home screen. Clone app info will also be available there.
Step 6 – Select "Re-download" to install a second Clone App
We hope you are a little familiar with the process now. If you want to get a second clone App, please tap the "download" button, select the Clone App option again, and "Tap Clone 2" to install it.
Attention
If you remove the clone1 IPA which you just downloaded from the list, and you won't come across this pop-up prompt.
If you tap " Install directly", clone 1 will be installed again, not the clone2
Remember to download the second one after the first copy is installed. Prevent from downloading and installing at the same time, otherwise, unforeseen errors may occur
If you also want to install one more Clone 3, please redo step 6
Step 7
Now, according to the process, you get 4 Resident Evil cloned copies, one of them is the original version, and the other is duplicate ones.
Conclusion
Cloning is a process of great practical value, as it can split the functionality of the app or game you wish to adapt according to your needs. Although there are legal implications related to cloning, they matter only if you go to extreme ends of cloning that affect copyright concerns of the target program.
You can use Panda App Cloner to fulfill all your duplication requirements. You only need to own a VIP version of the Panda Helper app market to access this service. It is an in-built option of the Panda Helper platform you can easily access without any separate installation. You can go to multiple levels of cloning by working with this tool and it helps you achieve further independence from whatever app you have selected to clone. Just download Panda Helper VIP today and enjoy this amazing feature.